I started off the year on the right foot when I enrolled in
Brave Girls Club
's Soul Restoration online class
HERE
.
I started crying just watching the introduction video. And I just knew I had to take this class.
I've always meant to take photos of my art journals but Melody Ross did recommend to keep it to ourselves. Maybe one of the reasons being that it's for your own personal use, not anyone else's.
I'm just sharing some photos here because I was inspired a large part by the Darkroom Door products I used
HERE
and
HERE
. These were my prize (and more) when I won a challenge over at
Inkurable Stampers
. Thank you, Sarah, and Darkroom Door!
Basically, we had an art journal, a writing journal, and truth cards in the class, plus a ton of inspiring quotes, food for thought, and lots of soul-searching questions.
A "truth card"
The Brave Girls Club also provided us with the awesome vintage images, titles, and quotes we could print out.
I had problems picturing "my house". But then I got to thinking that my own personal retreat, even if it's just once a year, was the beach my grandfather grew up in. And I grew up there as well during summers and some weekends.
Melody Ross pictured the "Truth Teller", our own personal higher power who tells us the truth and what are the lies, with a bird. I was inspired by the photochips and photostrips from Darkroom Door so I pictured my Truthteller, my God, as a lighthouse.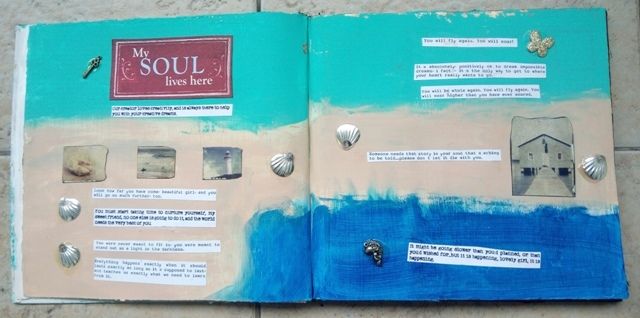 My writing journal and some pages below (you can click on them to see them bigger).
I know it's kind of late to be posting this. But I just wanted to say a very sincere thank you to Melody Ross and the Brave Girls Club, you women are just so awe-inspiring.
And thank you so much to Sarah, for your hard work on Inkurable Stampers, and Darkroom Door, for always coming up with the most awesome products.
You girls rock!